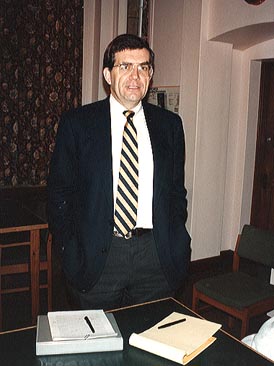 Sinclair Ferguson
Dr Ferguson formerly served as senior pastor of St. George's-Tron Parish Church in Glasgow, Scotland and as Professor of Systematic Theology at Westminster Theological Seminary in Dallas, Texas, and pastor of First Presbyterian Church in Columbia, South Carolina.
The above photo is courtesy of Dr Elmer Duncan.
BIOGRAPHY
C. J. Mahaney Interviews Sinclair Ferguson
Biographical Sketch - Monergism
ARTICLES
From Banner of Truth:
Sinclair Ferguson's Critique of Norman Shepherd's The Covenant Context for Evangelism
Norman Shepherd's Reply
Medieval Mistakes
John Owen On The Spirit In The Life Of Christ
Little Innocents?
The Ministry of Reconciliation
Princeton and Preaching
Wives and Their Husbands
Geerhardus Vos Anthologized
Cambridge Summit Highlight - ACE
John Owen on the Spirit in the Life of Christ - Fire and Ice
A Spiritual Appetite - The Highway
Discovering God's Will - The Highway
Little Innocents? - The Mountain Retreat
Discernment, Wisdom, and the Will of God - Sovereign Grace Online
Sinclair Ferguson Refutes the NPP - PCANews.com
Sinclair Ferguson Accepts Position at Westminster's Texas Campus
AUDIO SERMONS
Sermons from First Presbyterian Church, Columbia, SC
Sermons from SermonAudio.com
Midweek Series - Park Cities Presbyterian Church
Audio from Westminster Seminary, Texas
Theological Education Yesterday, Today, and Tomorrow - Highland Theological College
HTC Opening Day - Highland Theological College
The Beattitudes - Christian Counterculture
From Mt Zion Online
The Saint And The Law
The Free Offer Of The Gospel
The Marrow Controversy: Historical Details
The Marrow Controversy: Dangers of Legalism
The Marrow Controversy: Dangers of Antinomianism
Read The Marrow of Modern Divinity by Edward Fisher
Tapes of these addresses, as well as many others can be purchased from Sound Word.
SERMON TRANSCRIPTS
Something to Boast About? - Romans 5:1-11 - FPC Jackson
The Mystery of Providence - Genesis 50:20 - FPC Jackson
Overcoming Sin - James 1 - FPC Jackson
Experiencing Trials - James 1 - FPC Jackson
MISCELLANEOUS
The Shepherd's Scrapbook: Sinclair Ferguson
---
E-mail: Sean Richardson